Top 7 facts about safe pterygium removal
Important information you need to know prior to electing pterygium removal surgery.
Pterygium removal
1. Do you need to remove your pterygium?
This is completely up to you. Pterygium is not cancerous, nor can it cause any other disease if it remains untreated. The rate at which your pterygium will continue to grow is impossible to predict. Only opt in for surgery if you feel discomfort or you do not like the look of it.
2. What is the best practice for pterygium removal?
The critical constituent of pterygium surgery, in order to prevent regrowth/recurrence, is the removal of its root.
3. What can you expect from best practice surgery?
During Best Practice surgery you should be awake but, importantly, unable to see or feel the procedure. It requires a graft taken from the eye with the pterygium, removal of pterygium from the root to ensure it does not grow back, sutures with disposable stitches, and then a 2-week post operation recovery time.
4. Cost of the surgery
The Australian Medical Association prohibits surgeons from publishing their prices, as well as specialists discussing prices with one another. We apologise for any inconvenience, but you'll need to contact one of our Partners for Pterygium to receive more information regarding the price.
"You should never feel pressured to make a decision about your surgery during your initial consultation and diagnosis. Understand your options and carefully consider them in your own time."
— Professor Lawrence Hirst, Director, The Australian Pterygium Centre
Risks of recurrence after surgery
5. What recurrence rate should you accept by your surgeon?
Due to the fact there is always a risk the pterygium will return/recur after surgery, you should carefully consider your surgeon's risk statistics.
1 in 2000 is the world's lowest risk of recurrence, recorded by The Australian Pterygium Centre. This image illustrates how many patients, from 1000, are at risk of requiring repeated pterygium removal.
If your surgeon states a 1 in 10 or 1 in 15 risk of recurrence, this image illustrates how many patients, from 1000 are at risk of repeated pterygium removal. Requiring further time off work and further time recovering from eye surgery.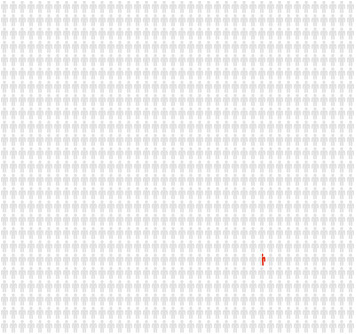 Recurrence rate after P.E.R.F.E.C.T. for Pterygium®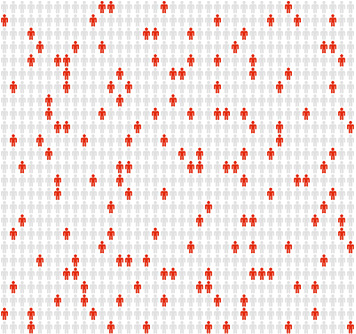 Recurrence rate after REGULAR REMOVAL
Developing a pterygium
6. Risks of developing pterygium - Family History
Pterygium is not known to be genetic. If your eyes have been exposed to the sun in the first 10 years of your life, you have a 1 in 10 chance at developing a pterygium.
If you lived in Queensland as a child you are 40x more likely to develop pterygium than your cousins in Victoria.
7. Prevention
Hats, sunglasses and shade are critical to the prevention of pterygium. Just as our skin is vulnerable to the sun, so too are our eyes. Protect your children's eyes as soon as possible to avoid pterygium growth in their eyes.
For more information
Contact The Australian Pterygium Centre today and learn more about the P.E.R.F.E.C.T. for Pterygium surgery, the results, the costs and the risks, and make sure you make an informed decision about your eye.
or send us a message with this form: